Forge new friendships while doing great things
for our Community
Founded in 1961, LVWCJ is a non-profit service organization engaged in both fundraising and hands-on service activities to benefit our community and local families in need.  Our mission is two-fold; to support our community through volunteerism while also inspiring meaningful engagement with a fun, diverse and welcoming group of women who share a common vision of enriching the lives of those around us. 
Our dedicated members volunteer their time and talents to raise funds for our community through programs including our non-profit thrift store Racks Valley Boutique and our C.A.R.E. Afterschool Program for local elementary and middle school children, as well as a variety of other fundraisers and events.  Each year our volunteer efforts raise thousands of dollars which we donate directly back into local programs such as our schools, emergency services, food pantry, college scholarships, senior center, kids for kindness, families in need and so much more. 
Are you new to the area and looking for a way to meet new friends and get involved?  If you share in our passion to enrich the lives of those around us through community involvement and volunteerism, we encourage you to consider attending one of our monthly General Meetings.  We also encourage you to contact our Membership Team by leaving your contact information below and follow us on social media to see regular updates on our events and volunteer opportunities.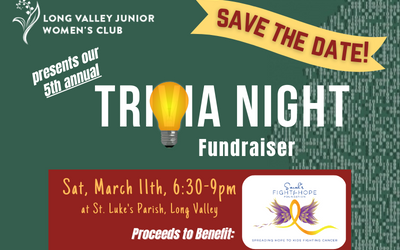 Join us on Saturday, March 11th from 6:30-9:30pm at St. Luke's Parish in Long Valley for our 5th Annual Trivia Night Fundraiser! Show off your Trivia knowledge and compete for prizes and bragging rights! $30 per person includes admission, dessert and prizes for the...